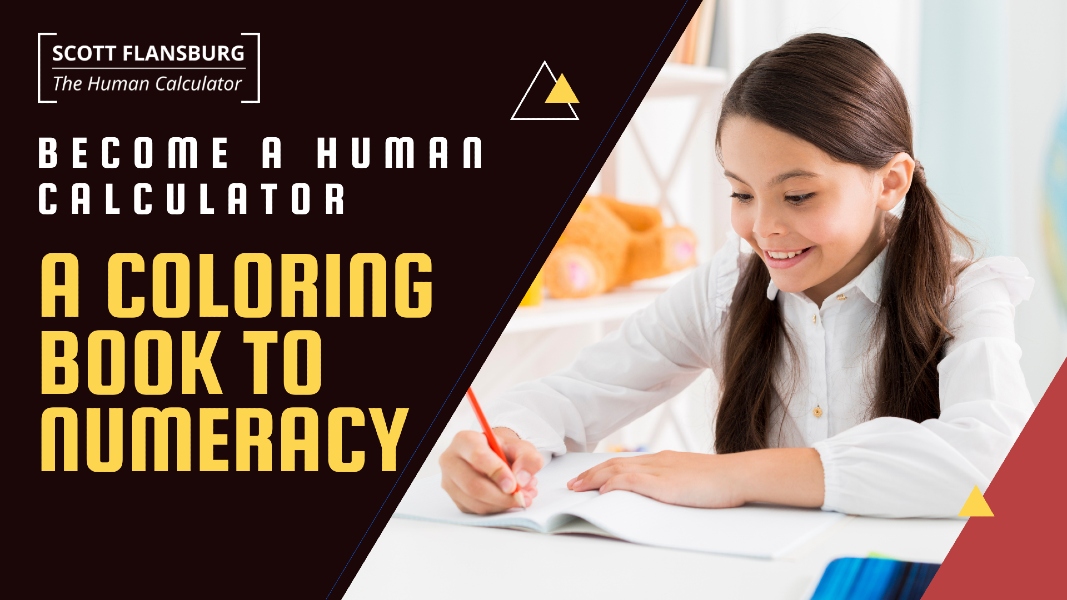 The Training is Fun Yet so Powerful, That Your Child Will Never Need Your Help in Maths Again
watch as your child excels in school and is able to do mental math at the speed of a calculator!
Independence Day Sale : Use Coupon Code INDEPENDENCE50 to get 50% off
The Best Way to Make Kids Love Mathematics… Right From the Start!
 Don't you get it? Your child hates math and can't learn because they find it boring!
How will he concentrate if math bores him to death? Children have low focus. They get distracted easily. To hold their attention, you need to make learning fun.
If your child ignores the subject because it is boring, they will not understand the basics. You will then be their go-to source for solving math problems. It is a vicious cycle that never ends!
Put An End to This Cycle Today,
Make Your Child Fall with Numbers So They Don't Grow Up Hating It.
Tired of Solving Math Problems for Your Kid?
Only One Way to Stop This...
As a parent, you have a tough life. You need to help your child grow correctly, and that also includes teaching them math! This becomes harder when you don't like math yourself. If you keep solving their math assignment for them, how will your children learn?  
Stop wasting your precious time solving your child's math homework. 
Get some peace of mind because, with Human Calculator Training, your kids will jump themselves to solve math homework.
Old School Teaching is Outdated…
Prepare Him to Become a Walking Human Calculator, when it's easier to do so
The brain of a child is like a sponge. It's up to you how you mold them. Their brain is still developing at this stage, and whatever they learn will forever remain in their memory. Instead of listening to old-fashioned advice, make learning fun and interactive. 
By teaching them mental math tricks, you can give them the edge over the other students of their age. You will instill a love for numbers in your child right from the beginning. This is where the magic will happen. As a result, they'll ace the school grade and build a solid future. 
Not Your Regular Mathematics Program….
A Journey to a Lifetime of Success Starts Right Here 
with the Mental Math Tricks
Introducing Kids Edition Program by Scott Flansburg. This training will make your child a pro with numbers in no time.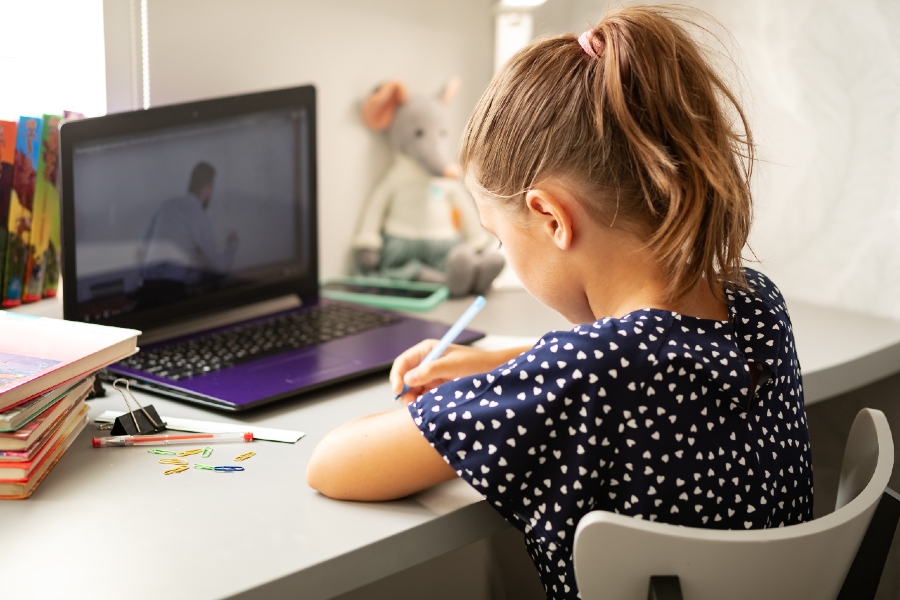 Join the Program to Start
Get Access to Your
KIDS Colouring Book Program

TODAY !!
The decision you make today can transform the rest of your life
Colouring book course (Book Included)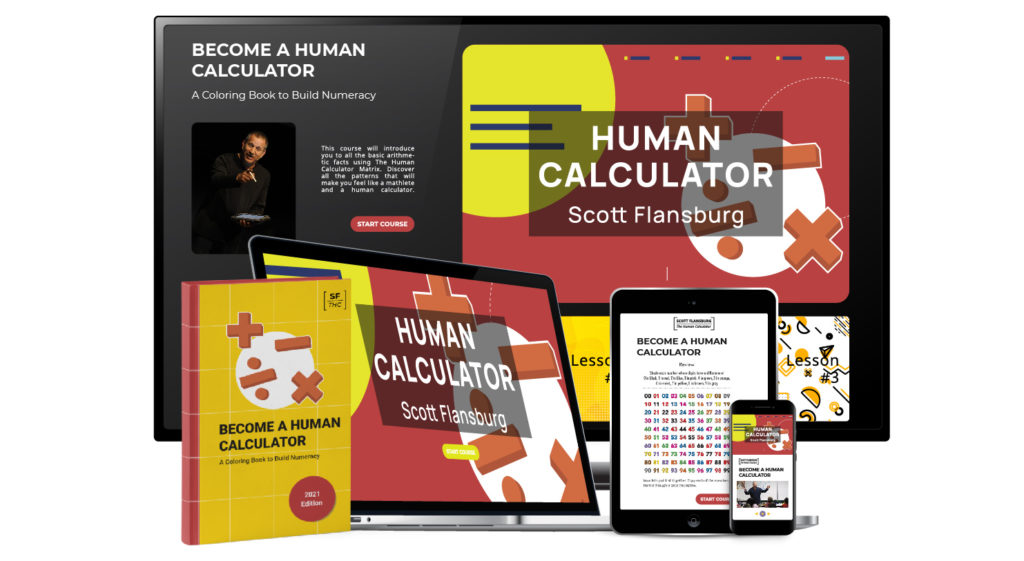 Colouring book + Become A Human Calculator (2 Programs in 1)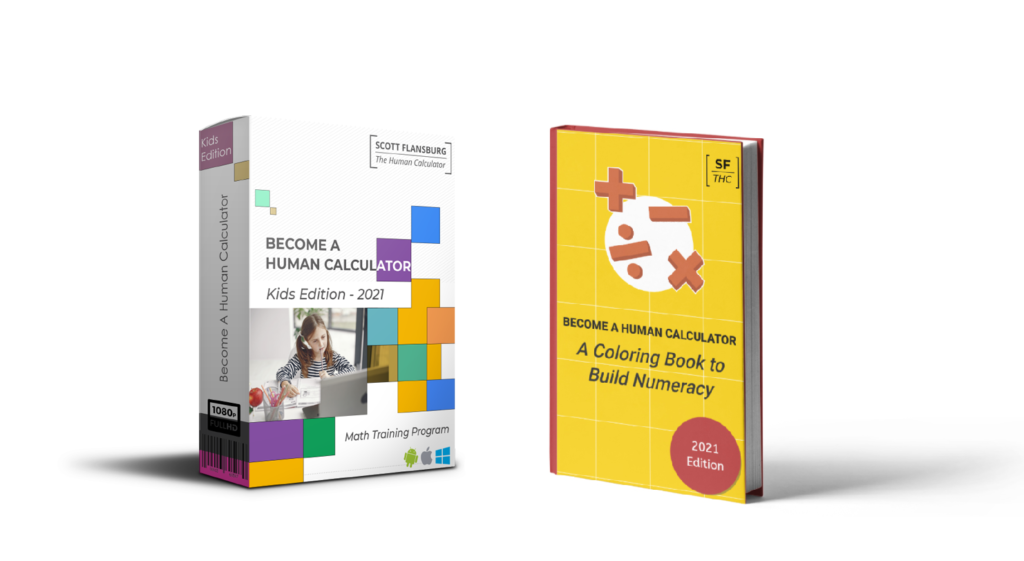 For your security, all orders are processed on a secured server. 256 bit SSL encryption.
Scott Flansburg, the Guinness record holder for speed of mental calculation
Scott Flansburg holds the Guinness World Record Holder for the fastest mental calculation after adding the same number to itself more times in 15 seconds, faster than anyone could do with a calculator. He is also an annual host and founder of The National Counting Bee, a fast-paced annual competition to find the fastest human counters. 
Flansburg discovered his mental calculation ability at the age of 9 when his math teacher asked him to add four numbers. He can mentally add, subtract, divide and multiply numbers with the accuracy of the calculator naturally. In 1990, he started using his abilities in the education and entertainment industry. To date, he has published books like Math Magic and Math Magic For Your Kids.
Scott has been featured in popular shows worldwide like The Ellen Show, The Oprah Winfrey Show, USA Today, BBC breakfast, ESPN, History Channel, and many more.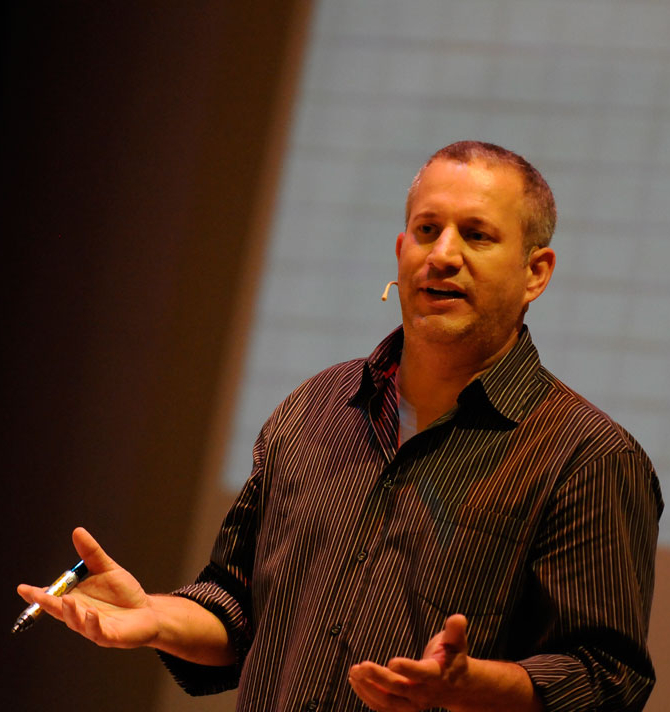 WHAT INFLUENCERS HAVE TO SAY ...
What do Will Kids learn in this Online Mental Maths Training Course?
7 Day - Course Curriculum
The Human Calculator Matrix
Discover the Pattern of Each Digit
Discover the Addition Facts
Discover the Subtraction Facts
Discover the Difference Facts
Discover the Counting Patterns
Adding Within the Human Calculator Matrix
Subtracting Within the Human Calculator Matrix
Everything is Fine if You Get 9
Bonus Included When You Join Today
Numbers are an integral part of our life. In this bonus, your kids will be taught number theory. They will understand the importance of every digit after this training.
In this training, the secrets of the Cube Root theory are revealed. Your child will learn to calculate cube roots of any number instantly.
In this training, your child will learn to calculate the day of any week in the past or future using perpetual calendar theory.
Perpetual Calendar Formula
This bonus is audio-only training. Once every base is covered, your child will be given access to advanced training.
In this bonus, your child will receive two e-books. E-Book 1 will have hands-on training exercises to take mental math calculation to an entirely different level. E-Book 2 is a games of numbers book where children will learn how to quickly answer any math problems.
Math games where you have to figure out the answer quickly using the math techniques you have learned.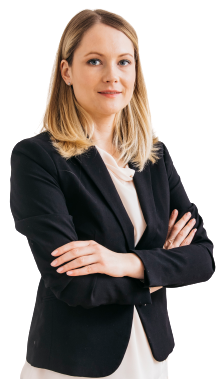 YOU'RE PROTECTED BY SCOTT FLANSBURG'S UNCONDITIONAL 15-DAY GUARANTEE
The main reason you are taking the program is to see results, and we guarantee results. For any reason, if you are not satisfied, you can contact our support team and request a full refund within the first 15 days. The refund will be processed on the same day, and you will receive it within 4 working days. Your Kid's Journey to Becoming a Human Calculator Starts Here, Right Now!
Still Doubtful?
Sign Up for free tricks and techniques to get your kid a head start
Into the world of mental math.